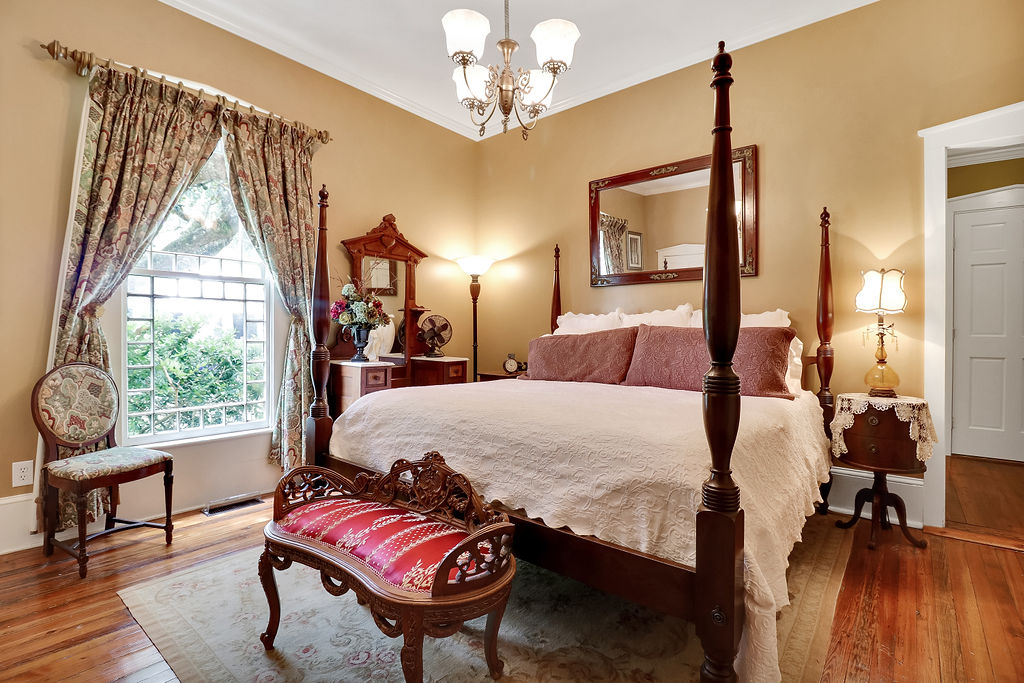 Availability & Reservations
To search availability enter your arrival date below and click GO

October 4th, 2023 - October 17th, 2023
Wed
4
Thu
5
Fri
6
Sat
7
Sun
8
Mon
9
Tue
10
Wed
11
Thu
12
Fri
13
Sat
14
Sun
15
Mon
16
Tue
17
There is a two night min. stay for reservations. $100 surcharge applied for 1 night stays
CAPTAIN ADKINS ROOM: $285 per night +tax
King bed with fireplace and private balcony. Large bathroom with

(...more)

VIRGINIA'S ROOM: $285 per night plus +tax
King bed with fireplace on first floor. Large bathroom with two m

(...more)

ROBERT'S ROOM: $265 per night plus +tax
Queen bed with fireplace on second floor. Large bathroom with mar

(...more)

CHARLOTTE'S ROOM: $265 per night plus +tax
Queen bed with vaulted ceiling and stained glass window including

(...more)

Wed
4
Thu
5
Fri
6
Sat
7
Sun
8
Mon
9
Tue
10
Wed
11
Thu
12
Fri
13
Sat
14
Sun
15
Mon
16
Tue
17

= Not Available
Availability last updated: 09/28/2023 11:43 PM
Note: Availability data is reasonably current but is not 'real-time' and may lag actual bookings.
General Notes
Regular check-In is between 3 pm and 5 pm. For later arrivals please just advise/contact the innkeepers directly at 910.363.4169

Check-Out by 11:00 am. There is a two (2) night minimum throughout the year and a three night minimum on holidays such as Memorial Day, July 4 and Labor Day.

The Inn is back to serving a full breakfast each morning at 9 am. If you do not feel comfortable sitting at the dining room table, please let us know in advance. We are pausing our in-room service and will not be entering guest rooms during guest stays..during the Covid recovery phase.. Please put (using the laundry bag inside your closet) used towels and trash outside your room by 11 am each morning. All rooms are heavily sanitized between guests and the common areas and touch points are regularly sanitized. Please use the hand sanitizer by the front door upon entering and remember to wear your face covering in common areas inside the Inn if it makes you feel more comfortable. We appreciate you helping us maintain a healthy environment for you and all guests and our team and respect everyone's personal to protect themselves and others.

When you reserve a room, the entire amount of your stay will be charged to your credit card. If you cancel 30 or more days before your reservation, your total will be refunded minus a $50 cancellation fee. You are responsible for the entire balance of your reservation if you cancel within 30 days of your reservation. We will try and rebook your room so we can return some or all of your charges (less the $50 cancellation fee) but can not guarantee we will be able to rebook. We highly recommend purchasing travel insurance from Alliances, AXA, AAA or another carrier if you feel there is a chance you may need to cancel.We are a small boutique Inn so just one cancellation affects our overall business and guest preparation.

We are happy to provide Aveda bath products for guests while staying at the Inn. If you would like to purchase/take home a bottle, the cost is $30 for each the shampoo & conditioner. We also encourage guests to use one of our many bike helmets when using one of the Inn's bicycles. Please ask us if you do not see them by the bike rack. Thank you!