AvailabilityOnline
-
Online Booking with TripAdvisor's TripConnect Cost Per Click Program
AvailabilityOnline is a TripConnect Certified Partner


You can now link your Availability Online booking engine directly to your TripAdvisor listing. This is a great way to give you direct, commission-free bookings! The TripConnect Cost Per Click program is a way for Availability Online users to compete for bookings on the world's largest travel site.

TripConnect gives you the opportunity to generate new business by bringing visitors who are ready to book directly to your Availability Online Booking Engine.

The Availability Online - TripConnect interface is available to our Premium subscribers. Availability Online interfaces with the TripConnect Cost per Click program. At this time there is no interface with the Trip Connect Instant Booking program.
To be eligible, TripConnect requires you to have the following features activated in your Availability Online account:
- Nightly Rates
- Taxes
- Use of our Enhanced Confirmed Booking Form
- Occupancy Settings Specified
** As of 1/6/15 a TripAdvisor Business Listing is No Longer required to participate in TripConnect
Here is a link to our Help Manual to assist you in making these setting changes: HELP MANUAL
TripConnect works on a Pay Per Click basis, so you only pay TripAdvisor when a guest clicks to your AvailabilityOnline booking engine.
There are no charges for the Availability Online bookings made on your TripAdvisor page.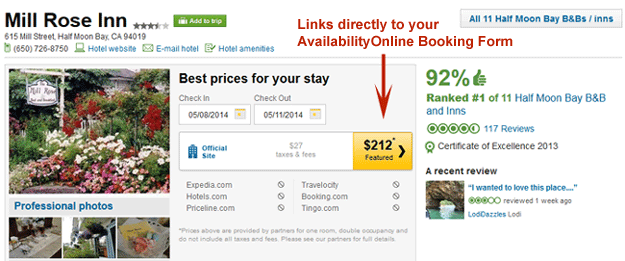 Ready to Get Started? Click here to find out more and sign up!